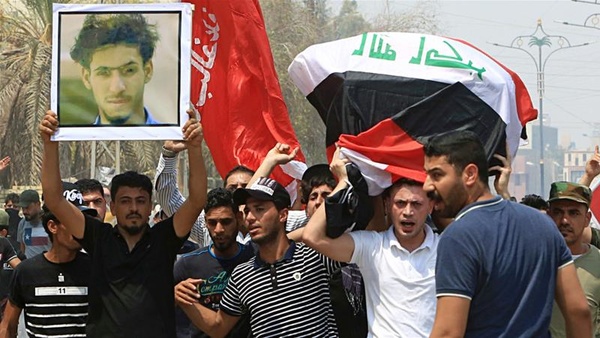 Deadly clashes continued in Iraq's southern oil hub of Basra after hundreds gathered to mourn the death of a protester killed a day earlier.
At least six people were killed and 12 injured in violent demonstrations near a provincial government building on Tuesday when protesters stormed the office and set it alight, sources on the ground told Al Jazeera.
Sources on the ground said members of the security forces had also been injured.
"The situation is continuing to escalate after the death of a protester yesterday," said demonstrator Laith Abdelrahman. "Security forces are using live ammunition and tear gas to break up the demonstrations."
Yasser Makki died in a hospital following clashes with security forces on Monday night, while six other people were hurt.
As the clashes continued, Iraqi Prime Minister Haider al-Abadi held an emergency cabinet meeting to discuss the unrest and ordered the Ministry of Interior to conduct an immediate investigation into the protests, state media reported.
Demonstrations have been ongoing for months in southern Iraq over poor government services, corruption, and a shortage of potable water.
According to Abdelrahman, the government office caught fire after protesters hurled petrol bombs at security personnel.
"There is a big fire in the provincial government building, which has now become completely enveloped in flames," he said.
Al-Abadi ordered an investigation into Makki's death, while the local head of Iraq's Human Rights Commission, Mahdi al-Tamimi, also called for a probe.
END