Blessed Children: DPRK
General Secretary Kim Jong Un inspects the Chongjin Bag Factory in North Hamgyong Province, DPRK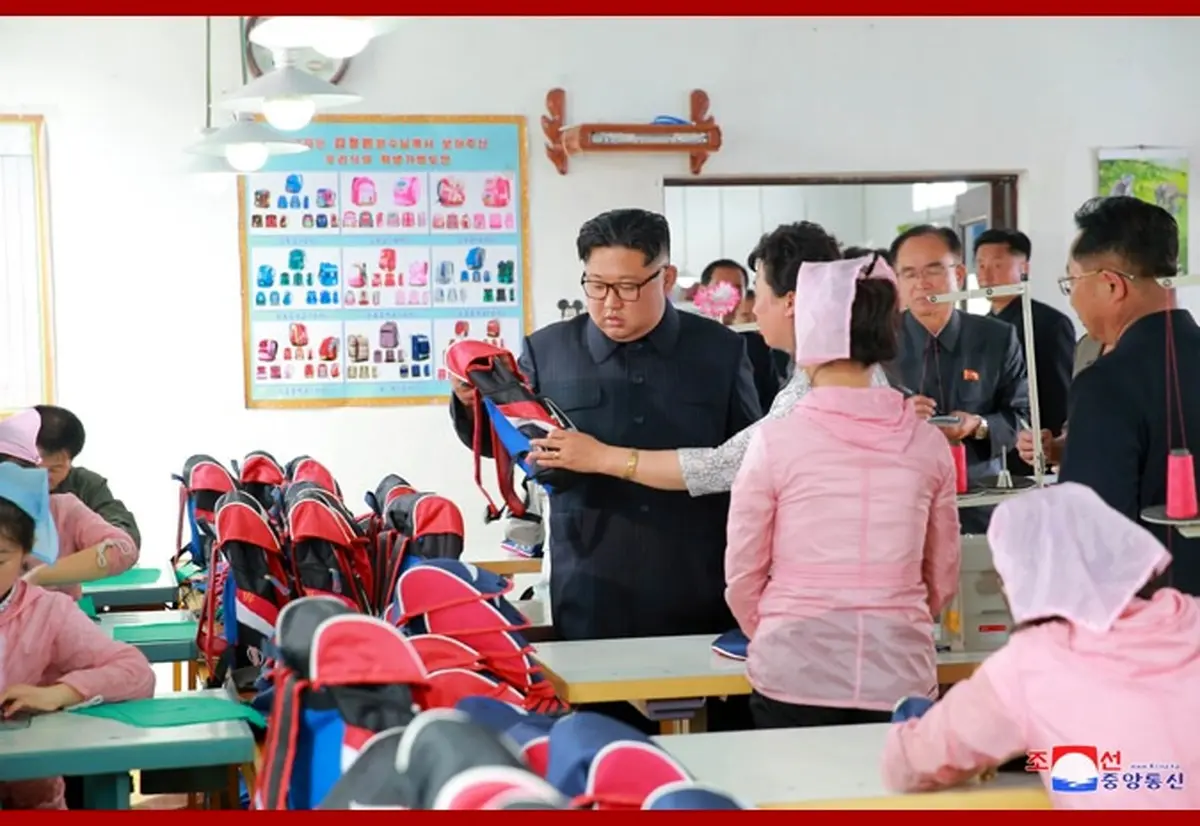 -Home of Happiness Brimming with Love for Future
Today, all the students at the Pyongyang Secondary Boarding School- a wonderful palace of love and home of happiness built without any flaw thanks to our Party's noble view on posterity and future-are fully enjoying the paternal love of respected Comrade Kim Jong Un.
On July 2, 2016, seven years ago, respected Comrade Kim Jong Un spared his valuable time to visit the Pyongyang Secondary Boarding School even though he was heavily preoccupied with lots of state affairs.

The panorama of the school brought a broad smile on his face. He appreciated the building is spacious and praised Pyongyang citizens for having done another great work worth boasting before the world; he said that whenever he passed the construction site, he looked forward to the day when the clear voices of the children reading and singing would reverberate far and wide.
On this scorching hot day of July, he looked around several places of the school with the love of parents who wish to give the best things to their children so that they can grow up without feeling the orphan's sorrow.
At the dining room, he set forth detailed ways for the care of the children, saying that the children should never feel the sadness of orphans.
He said that the foodstuff such as staple and non-staple food, meat and fruit should be supplied on a regular basis, that school things and new school uniforms be provided every season, and that early fruits and special dishes also be served for them.

He also said to the accompanying officials that they should pay attention to the education and life of the parentless children to make sure they give full play to their talents and hopes.
Then, he had a broad smile on his face, saying that all of them are the sons and daughters of the Party, and our Party is blessed with many sons and daughters.
Even the sun's rays fail to lift off all the shade. However, the loving care of respected Comrade Kim Jong Un for our parentless children knows no limit.
In the embrace of the great sun, the children of the Pyongyang Secondary Boarding School are now learning to their hearts' content with dreams of becoming such excellent people as the service personnel impregnably defending the defense lines of the country, famous scientists, artists, sportsmen exalting the dignity of the country and as the future heroes.
As we hold in high esteem respected Comrade Kim Jong Un who loves our posterity most and renders endless love and affection to them, the happy laughter of our younger generations will resound far and wide, and our future will be bright forever.
-Promise of Love Kept
There are many countries and leaders in the world. However, the world has never witnessed such a benevolent leader as ours who has cared so much to keep even the promise he had with ordinary children of a kindergarten.
11 years ago, on July 14, 2012, respected Comrade Kim Jong Un visited for the second time, Kyongsang Kindergarten which was newly built on Changjon Street.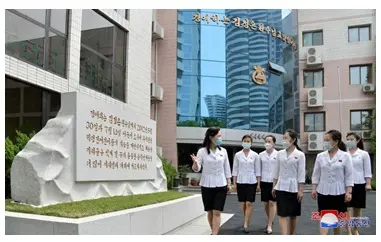 He revisited this kindergarten only 40-odd days after his first visit on May 30, not forgetting the promise of love he made.
Actually, the officials were overwhelmed with his revisit. But when they heard respected Comrade Kim Jong Un saying that he came late as he was pressed for time though he promised to come again at the end of June, they were carried away with deep emotion.
On that day, he looked with affection at the children who were playing happily in the rubber-mat playground outfitted with recreational facilities he sent to the kindergarten.
Then he went to the room dedicated to the history of the kindergarten.
He praised the kindergarten for producing many musical prodigies, calling the names of the artistes one by one who cultivated their talents at Kyongsang Kindergarten.
After that, he looked around the comprehensive play room.
Respected Comrade Kim Jong Un drew himself closer to a little doctor in a white gown with a stethoscope around her neck, playing the hospital. He rolled up his sleeves, and asked the child to examine whether he was sick.

However, the little "doctor" with a stethoscope draping over her neck instead asked respected Comrade Kim Jong Un where the pain comes from, making the accompanying officials burst into laughter.
Respected Comrade Kim Jong Un also had a broad smile, warmly stroking her cheek.
The touching scene that day which shows the parental love of a state leader having a friendly chat with a small child left a deep impression on all the children and people of the country; respected Comrade Kim Jong Un finds the greatest joy and happiness in being with children and their young energetic liveliness.
But behind his bright smile, only a few knew that he had stayed up all night and made time despite his busy schedule with state affairs to keep his promise to visit the kindergarten again.
That day, respected Comrade Kim Jong Un spared his precious time to watch a performance prepared by the children. He gave a high praise by saying it was well-prepared and excellent. He also had a memorable photo session with the kindergarten teachers and other staff members before leaving.
The future of the DPRK will always be bright and rosy under respected Comrade Kim Jong Un who regards children as kings and queens of the country, showering them with love and care.
-Bag Manufacturing Factory Tells Story of Love
There are many moving stories associated with unfailing devotion of respected Comrade Kim Jong Un to our children and young students.
One of them is about the visit Comrade Kim Jong Un made in the searing heat of summer to Chongjin Bag Factory, a factory exclusively producing bags for schoolchildren.
The year 2018 recorded a temperature, an all-time high in our country's meteorological history.
On July 16 of that year respected Comrade Kim Jong Un visited the Chongjin Bag Factory in North Hamgyong Province.

The factory had been set up in accordance with the measure that respected Comrade Kim Jong Un took to build bag factories in each province including Pyongyang City so as to satisfy the national demand for schoolchildren's bags with domestic production.
One year in operation though, the factory was no more than a cramped workshop with tightly packed sewing machines inside.
Casting a glance at the workplace, respected Comrade Kim Jong Un felt a pang in his heart.
He then said to the senior officials of the province: Obviously North Hamgyong Province having large factories and enterprises like Kim Chaek Iron and Steel Complex should have given higher priority to iron production, but not equally to the school bag industry; iron production is important for him as well but more important is to provide our schoolchildren with good textbooks, notebooks, school uniforms and bags, he added earnestly.
He went on to reproach the relevant officials: If it were a project of a large enterprise that required technical innovation or modernization, many issues like equipment, materials and labour could be a challenge for the province to manage all by itself; but it doesn't make sense when it says the province's economy is so weak that it is unable to build a small factory which would mean simply putting in only dozens of tables for sewing machines and cutting machines.
This was indeed a priceless teaching telling of noble love for posterity of respected Comrade Kim Jong Un, who regards the school bag production not as a temporary undertaking but as a long-term project that has to be continued into the future for the sake of our coming generations, and whose intention is to set up a sustainable school bag production base, though it meant a factory situated outside the capital city.
In the exhibition room, he carefully examined the bags for kindergarten boys on display and gave the factory staff unreserved praise on the variety of their size, style and colour.
Coming to the bags for 2nd and 3rd grade primary school girls, he said that the sponge in the shoulder straps is a bit too thin and instructed to make it thicker, so that small children would not feel uncomfortable on their shoulders.
Paying no heed at all to the stifling heat of the day, he gave detailed instructions on such issues arising in factory management as major cost reduction and fixing of a reasonable price.
The factory was built afterwards into a fine production base with scores of modern equipment for school bag production fitting into a large building, along with cultural and welfare facilities in such a short span of 5 months.
The school bags produced in this factory became popular countrywide in terms of quality.
The factory officials and staff would recall with deep emotion the painstaking efforts made by respected Comrade Kim Jong Un, who came to the factory on such a hot summer day and saw to it that innovation was made in the production of school bags for our children and young students.
Now they are fully determined to materialize the earnest desire of respected Comrade Kim Jong Un for our coming generation.